DW55F : Premium Digital Wireless Reversing/Rearview camera kit with 5" Dash screen + Top Spec Sharp CCD Numberplate Frame Camera
Digital Wireless - Interference Free
Wireless cameras used to have a bad reputation and this stems from the old analogue wireless, full of static and restricted in Europe to just 10mW transmitting power. These premium wireless cameras use a completely different way of transmitting and receiving data that stops the old problems from happening. They pair up and digitally talk to each other almost like a Wi-fi connection. The range is much, much greater and can be used on the longest of vehicles. Being digital you don't get the interference you see on analogue wireless, you also don't pick up random signals from house CCTV and horseboxes as you drive around.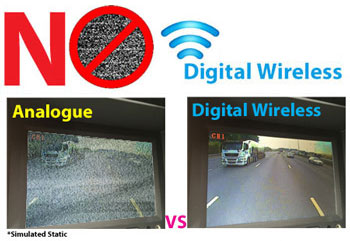 ---
Who Should use Wireless?
We recommend wireless for customers who have trailers (like caravans, Artics and horsebox trailers), they are also useful when an application is very difficult to run a cable front to back (heavily fitted out vans etc). We wouldn't recommend wireless for cars, the main reason being the time saved by not feeding a cable around 2-3M through the interior is usually negated by the time taken making an extra power link for the transmitter. Also with modern cars running CANBUS to the lights, if you come across a sensitive supply you may need to run a relay which is more cost and time. For cars we recommend our premium cabled kits where the monitor provides power to the camera and just one cable needs to be run front to back and you don't have to attach in to the reverse light supply unless you wanted to activate the trigger.
---
Modular System
These kits are made up as a modular system which means they are very flexible. The camera can be replaced at any time for a different model if desired with the digital wireless links not needing to be replaced. If you wish to add a second camera you can. The second camera can be wireless or cabled. We get lots of people who buy the wireless kit for the caravan and add a 4 pin cable and 4 pin camera to the order to allow them to use the system as a normal car reversing camera when they aren't towing. Another advantage of the system is that if after the 2 year warranty you have a problem with lets say the camera, you can purchase a replacement camera at a low price vs the cameras with built in wifi links which can be much dearer. The receiver simply screws to the monitors wiring and the monitor provides power to it and the transmitter simply screws to the camera and when you provide power to the transmitter this powers itself and the camera.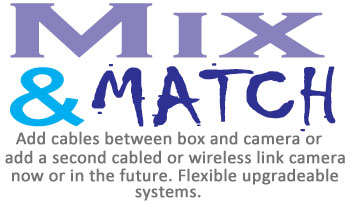 ---
Choice of Wireless Links (Indoor/Outdoor)
We carry two different wireless links, their performance is very similar but the boxes are very different. We have the indoor only type which has no waterpoofing and would need to be mounted away from any risk of water hitting the sender and receiver aerial box, this one is usually used in caravans and the box would go somewhere like an indoor cupboard. Then we have the outdoor box which is waterproof to IP68 and can be mounted externally, this is ideal for people who have no where else to mount the sender/receiver box.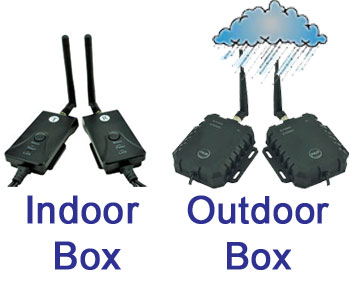 ---
This particular system uses the NEW 1/3" Sharp 600TVL CCD numberplate frame camera (not to be confused with the older 1/3" sharp CCD 480TVL). This camera has a unique lens to allow it to be one of the widest we sell but without too much fisheye effect. It uses a aspheric lens to accomplish this. This system also has sound due to this camera having a microphone.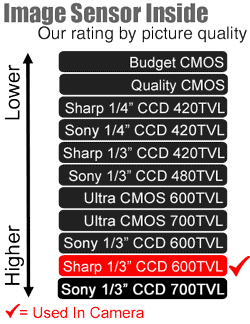 ---
Monitor has Digital LCD Panel - Not Standard LCD
The monitor uses a Hi-Res digital panel screen with more than 3 times the amount of pixels of the standard analogue LCD screens most other retailers sell. (Please note some sellers multiply the first number by 3 for RGB, if we were to do that it sounds even more impressive (2400x480). We prefer to keep it simple but check carefully our competitors, the last number is normally better to go by as this is the number of vertical lines of pixels.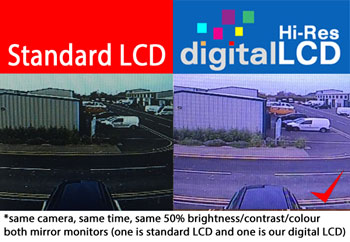 ---
System Suitability
Our systems work on either 12V or 24V, no switches it will adjust to the voltage automatically, this also protects the kit from any surges from the vehicle upto 32V, which is why we have such a good reliability record from these voltage protected kits.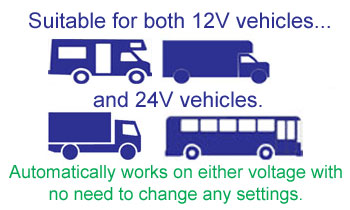 ---
Optional - Quick Release Bracket
We have an optional quick release bracket available for this monitor, you may select it in the options above. This will lock in to the back of the monitor using it's mounting channel. The piece will slide down and click on to the quick release bracket which stays on the dashboard. When you wish to remove the monitor (for theft prevention) you can disconnect the monitor cable around a foot back from the monitor, then simply pull the trigger on the bracket which unlocks the monitor and slide upwards. You can then remove the monitor from the vehicle or hide it.
Picture below shows our PM60 MON16 7" monitor but the channel is the same on the 5" and the side bracket is removable.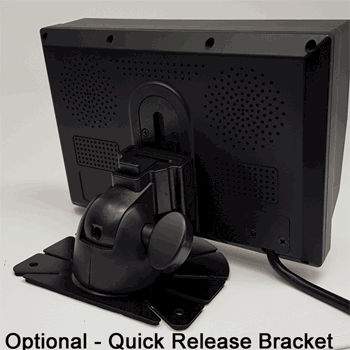 ---
2 Year Guarantee
We supply with a 2 year Guarantee with us, meaning we will repair or replace any non-user damaged parts that are deemed faulty. Our failure rate is very low even beyond these two years, if you have a problem outside of 2 years we should still have compatible parts and possible repairs for reasonable amounts.

---
Parts Tested in the UK
The parts of this kit will have been tested twice, once by the factory and once by us. We check all the items in the kit including all cables, trigger wires, IR leds and menu functions to reduce any chance of having a non working part. Our fault rate is extremely low, and we just like to ensure that we avoid any imperfection slipping past. This is why professional fitters love us.

---
Technical Specs
Monitor
5" Colour LCD screen
Power supply: 12V/24V
Power Consumption: 4W Max
Digital Screen Resolution: 800 x3(RGB)x480
Luminance: 350cd/m2
2 Inputs
PAL/NTSC/AUTO
Full function Remote Control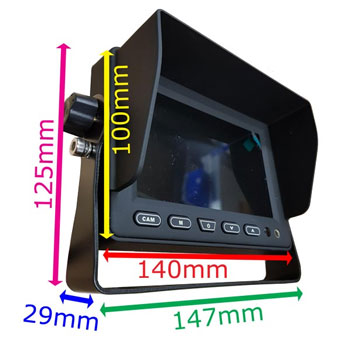 Camera
TV System: PAL
Sensing Area: 3.6mm x 2.7mm
Scanning System: 2:1Interlace
Sync. System: Internal
Minimum Illumination: 0 lux(LED ON)
Horizontal Sync. Frequency: 15.625KHz / 15.734KHz
Vertical Sync. Frequency: 50Hz / 60Hz
Video Output: 1.0vp-p, 75Ohm
Gamma Consumption: 0.45
AGC: Auto
S/N Ratio: Better than 48dB
White Balance: Auto
Electronic Shutter: 1/60(NTSC) / 1/50(PAL) ~ 1/10,000 Seconds
BLC: Auto
Current Consumption: Max. 120mA
Power Supply: DC12V
Operating Temperature: -20°C~70°C , RH95% MAX
Storage Temperature: -40°C~85°C, RH95% MAX
Lens: 1.8mm(P) / 1.8mm(N) F = 2.5
Lens Angle: 150° Approx (real world may be different as monitors crop the image)