CAM6 CMOS Bracket Reversing Camera With Night Vision
This is the budget version of our bracket camera. Comes with a CMOS image sensor to keep costs lower. Still a nice picture, but if you wanted better colour pickup and definition please choose the CCD version.
The bracket is made from Stainless Steel which is then painted (this is very hard to do and most of our competitors use mild steel due to the technical difficulties painting S/Steel).
The image sensor we have installed is a quality CMOS.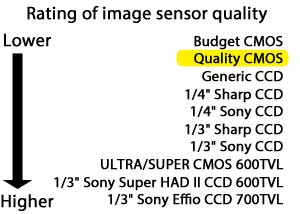 If you are looking for a higher spec image sensor please search for either CAM10 (black version) or CAM11 (white version).
The camera has the phono socket on it's fly lead and a 2.1mm DC power input (we provide adaptor to +12v and earth bare wire). This camera will also have a white phono socket for audio,
The camera is waterproof up to IP68.