CAM11 1/3" Sony CCD White Bracket Reversing Camera With Night Vision
This camera is the phono/RCA version of one of our top spec premium cameras.
The bracket is made from Stainless Steel which is then painted (this is very hard to do and most of our competitors use mild steel due to the technical difficulties painting S/Steel).
The image sensor we have installed is one of the best available from Sony, it is their 811 960H 700TVL CCD. It is the larger image sensor at 1/3".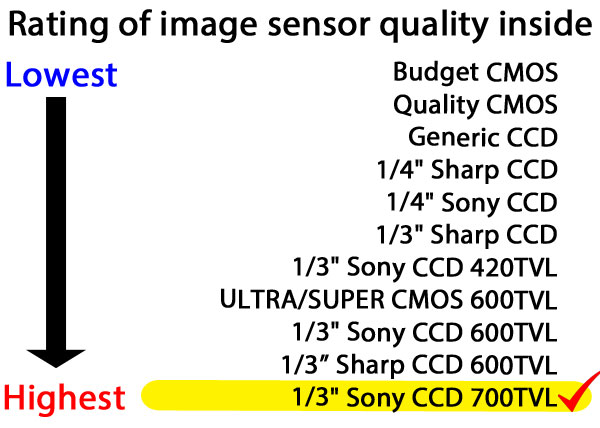 The camera has the phono socket on it's fly lead and a 2.1mm DC power input (we provide adaptor to +12v and earth bare wire).
The camera is waterproof up to IP68.
Technical Specs
Image Device:1/3 SONY 811 CCD 960H 700TVL
TV System: PAL
Effective Pixels: 976*582
Scanning System: 2:1 Interlace
Sync. System: Internal
Resolution: 700 TV lines
Minimum Illumination:0 Lux (IR leds on)
Video Output:1.0vp-p,75Ohm
Gamma Consumption: 0.45
AGC: Auto
S/N Ratio: Better than 48dB
White Balance: Auto
Electronic Shutter: 1/50Sec-12.5μSec (PAL)
BLC: Auto
Current Consumption:100mA
Waterproof to Ip68
18 Infra red LEDs to provide night view
Waterproof with adjustable shade to prevent glare from sun
Mirror image only
Stainless Steel Bracket (painted)